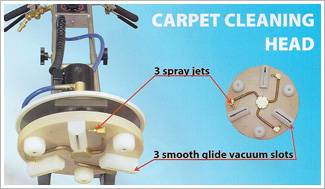 When it comes to maintaining your carpet, one of the most critical areas of focus is the traffic areas. Although regular vacuuming can remove dry soil and debris from your carpeting, it leaves behind oily soils and particles that are produced from cooking vapors, pets, and dirt tracked in from outside the home.
These oily contaminants that are left behind can cause your carpet to fade and become dull. As the contaminants build up they become more difficult to remove. Regular deep cleaning of the carpet can prevent the excessive build up of contaminants and keep your carpets looking fresh and clean. Your carpets may appear clean on the surface, but periodic cleaning by a professional carpet cleaner specializing in deep cleaning can remove what you can't see and help your carpets retain their fresh beautiful appearance.
Regular cleaning of your carpets also helps improve the air quality in your home by removing pet hair, dust mites, and other allergens that thrive deep in the carpet.
What can you do to prepare for your carpet cleaning?
Vacuum extra good with a new bag
Move small items and breakables from the area to be cleaned
Get ready to amazed by the revolutionary, Rotovac 360® deep cleaning buffer head
Our Cleaning Services

What you can expect from me?
Pre-treatment:
I will treat spots and stains as necessary and apply a cleaning solution to the entire carpet. This sometimes needs to be repeated several times on extra stubborn stains and traffic areas. Combining the right cleaning agents, a little agitation, proper dwell time, and deep cleaning, can make all the difference in the world.
Cleaning:
I use the state-of-the-art $2,400.00 Rotovac 360® deep cleaning buffer head that cleans three (3) times better and deeper than the push wand. I still use the push wand for the vertical and round part of the stairs and edges when needed.
Post-inspection:
Once the project is completed, I re-inspect the carpet with you to ensure that all the work was done to your satisfaction.
What you should do after the carpets are cleaned?
To decrease drying time, try to keep the room temperature at about 70 degrees and use fans to circulate the air around the cleaned carpet. I try to place one or two fans in each room. You can put my fans on the porch and I will pick them up the next day (no extra charge). I also offer 2-3 trips back to touch up "PH" wicking brown stains when needed, and when you are within 10-12 minutes from me there is usually no extra charge for these follow up services. Also, it is important to leave a window open (1-2 inches) in each area for moisture escape, or wider if the temperature is over 65 degrees outside. After the carpet is dry, it probably will not need to be vacuumed for a few days, after which you can then maintain your vacuuming schedule.
How long will it take my carpets to dry?
If the furnace and/or fireplace is on, and the temperature is about 70 degrees, and there is good moisture escape through a few opened windows (1" or more) usually, your carpets will be dry by night (in the areas we have fans.)
Naturally the dirtier areas that I have had to go over an extra number of times will take longer to dry (usually over night with good drying conditions).
My specialty is deep cleaning. Of course, the thicker the carpet pile and the deeper I clean, the longer it will take to dry. Usually, my customers are so happy with their newly cleaned carpets, drying time is not an issue or problem, especially, since I leave fans at no extra charge.