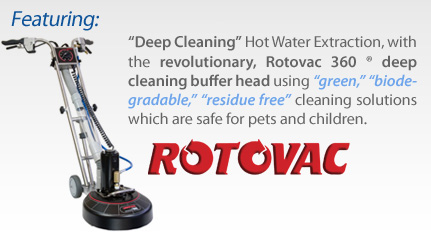 Deep Cleaning Hot Water Extraction, with the revolutionary, Rotovac 360 deep cleaning buffer head using green, biodegradable, residue free cleaning solutions which are safe for pets and children.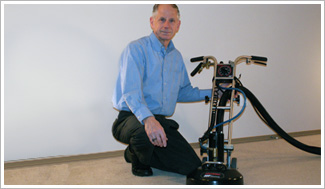 Family owned and operated for over 20 years, Michael's Professional Carpet Cleaning has restored residential carpets and provided expert cleaning and restoration services to countless clients throughout King, Pierce, and Snohomish, County.
I am located in Sammamish, Washington and specialize in residential deep cleaning of carpets, area rugs and upholstery. Michael's Professional Carpet Cleaning believes in "going green". My cleaning formulas are safe for pets and children and are "biodegradable" and "residue free".
Why are my customers so Happy with my work?

1. I have the only portable machine left in the business (as far as I know), that allows me to effectively see the water return when cleaning. How do I know how many times to go over any particular area, and to know when the carpet is cleaned deep, if I cannot see the water return from the carpet? Answer...I would have to guess like everyone else.

But, I do not have to guess because I can see the dirty water return through the walls of my extractor. Also, my machine has better extraction (water return) than a "Truck Mount" (shorter hose-20 ft long- with a smaller diameter-2 inches).These are important keys to deep cleaning!
2. Initially, I pre-spray and spot spray everything, using non-residue, "green","biodegradable" cleaning agents, giving valuable dwell time to loosen the dirt and stains.
3. Why would anyone put the cleaning agents in the clean water tank of the machine? Emulsiphiers (cleaning agents) need dwell time to loosen the dirt. Pre-spraying is one of the main keys to successful surface cleaning. It gives the cleaning agents time to loosen the dirt and enables me to always be "rinsing" with pure-clean water, leaving no additional residues to "attract" dirt.
4. I do not use "carpet brighteners" that "trick" you into thinking your carpets are "sparkling clean" for a few weeks. This just adds one more residue that attracts dirt, making your carpets look dingy much sooner."
5. Most important of all, I have purchased a $2,400.00, revolutionary, Rotovac 360® deep cleaning buffer head (new on the market). Because it weighs 39 lbs., it is able to force the water deep into the carpet. The Rotovac 360® deep cleaning buffer head has smooth gliders revolving over 100 times per minute (the equivalent of 100 passes with a push wand) and opens up the carpet fibers and extracts dirt and & pre-existing cleaning residues 3 times better than the push wand. The Rotovac 360® deep cleaning buffer head has absolutely revolutionized carpet cleaning. I still have to use the push wand for cleaning of the vertical and round part of the stairs and edges when needed. And remember, I am the guy with the machine that allows me a great view of the water coming out of the carpet which makes it possible for me to observe and compare the buffer to the push wand. I have seen carpets that were so dirty that my customers actually thought they would have to buy new carpets instead of having their carpets cleaned. The carpets looked like new, or almost like new, after I cleaned them.(see testimonials)
6. I charge by the hour, so I can clean exactly what you want and how good you want it. There is a minimum charge, of course, on very small jobs, and a small travel expense for jobs far away. For jobs within 10-12 minutes from me, I leave fans at no extra charge and pick them up, usually the next morning, and I also offer 2-3 trips back to touch up the "PH" "brown" wicking and "yellowing" stains when needed. For jobs farther away, I can sell you a product for these stains or you can use white vinegar.
7. I can usually save you money on upholstery and area rug cleaning.
8. I am very good at removing the black edges by the walls and vents, and they usually do not come back, especially if you vacuum along the edges 2-3 times a year with your hose or crevice tool from your vacuum cleaner. My customers sometimes help me in this process of cleaning the edges in order to save a little time and money. It is up to you if you want to participate! Many of my customers have been told by other professional carpet cleaners that they cannot clean their black edges. This is one of my specialties that will make you very happy!
9. I can help you with carpet and fabric protection, pet stains and odor removal.
10. I have a very good reputation for stain removal. If the stains are not caused by: hair dye, food dye, furniture, wicker baskets, or bleach, I can usually get them out. Quite often my customers tell me that I removed stains that others did not, or could not remove, including the black edges by the walls and on the stairs! For permanent stains or damaged carpets I can recommend someone to dye or patch the problem area.
11. My specialty is deep cleaning. Of course, the thicker the carpet pile and the deeper I clean, the longer it will take to dry. Usually, my customers are so happy with their newly cleaned carpets, drying time is not an issue or problem.

Please give Michael's Professional Carpet Cleaning in Sammamish a try. You will be very happy with my work! My goal is to hear the words "This is the best carpet and upholstery cleaning we have ever had": I believe it will be...realizing my other goal..." to make you a happy, repeat customer for life".